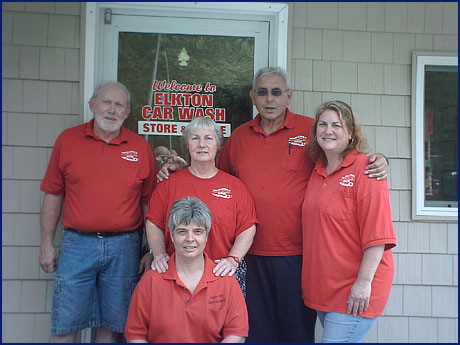 Elkton Car Wash, Inc. is locally owned and operated by James & Frances Romanek and family.
James first opened his 4 wash bay structure in Elkton, MD in December 1964. While constantly growing and adding to Elkton Car Wash, he owned and operated a Newark, DE location from 1986 to 2005. After selling the Newark location, Elkton Car Wash underwent major renovation, adding a second automatic tunnel and a larger store/office area.
Today we offer 24 hour availability to a Touch-Free automatic tunnel, a Soft Touch automatic tunnel, 4 self serve wash bays (including an open truck/rv wash bay), a selecion of vacuums, carpet shampooers, fragrances and a variety of car care products.
Since the beginning, James has enjoyed researching and providing the local community with the latest that the car care industry has to offer. Along with his family and staff, he looks forward to continuing the tradition of providing you, his customers, a clean, quality and welcoming atmosphere for all your automobile, truck and recreational vehicle washing needs.