Elkton Car Wash
Keeping vehicles clean since 1964
Join Our Monthly Wash Club
Easy to use, convenient and a Quality Wash every time! 
How It Works:
Choose from our Basic or Ultimate Wash Plan Packages. Once a month your credit card will be charged your package price and at that time your Club Account will automatically replenish back to 6 washes.
$24.95
Basic Wash Plan
Includes 6 Basic Washes
Wash, Spot Free Rinse and Dryer.
Regular Price $8 each.
$44.95
Ultimate Wash Plan
Includes 6 Ultimate Washes
Wash, Undercarriage, Triple Foam, Lustra Protectant, Spot Free Rinse and Dryer. Regular Price $13 each.
$30.95
Wash & Wax Plan
Includes 6 Wash & Wax Washes
Wash, ProShield Wax, Spot Free Rinse & Dry
Regular Price $10 each
$50.95
The Works Plan
Our Most Popular Wash Package
Regular Price $16 Each
Self Serve Wash Bay Plans
$29.99 a month for
$45.00 Wash Time
$15.00 a month for
$22.00 Wash Time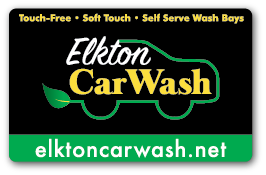 6 Washes Monthly
Multiple Vehicles Allowed
Use Our Club Card...
No Decal Needed
Works in Touch Free and Soft Touch Automatics
Wash Anytime...
Automatics Are Open 24/7/365
Stop in today to sign up!
501 N Bridge St.
Elkton, MD 21921
410-398-2022